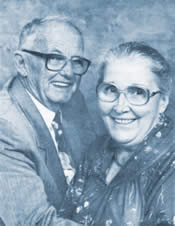 FOUNDER



Rev. Kirby James Hensley, born July 23, 1911, in the mountains of Western North Carolina. The second in a family of 7 children. He was raised in a strong Baptist home.

For over 65 years he studied and preached religion through out the United States. He was a very educated man despite the fact that he could not read or write. As a child he attended school until the third grade. But he was a student of life and religion and
and was constantly seeking knowledge of the material world as well as the spirtual. Rev. Hensley was ordained in the Baptist Church at an early age. After preaching for several years he left the Baptists and started attending the Pentecostal Churches in the area. This is where he met his first wife Nora. They had two daughters. He pastored in Oklahoma and California and established several churches.

After his divorce he returned to North Carolina. After a short time he was introduced to Lida. The woman he described as the only woman he truly loved. During their 46 year marriage they had 1 daughter and 2 sons.

It was shortly after returning to California with his family that he started to wrestle with the idea of forming a church for all people. And the rest is history, which he described in many books available from the church.

Rev. Hensley remained as President of the church until his passing on March 19, 1999.
CURRENT PRESIDENT
Rev. Lida G. Hensley was born on January 14, 1925, in the mountains of Western North Carolina. She is the second in a family of four children. She was raised in a Christian home.

Lida was working in a textile plant at the time she met Rev. Kirby Hensley. After a courtship and overcoming some personal decisions, she married Kirby in July, 1952. After moving from North Carolina, they traveled to Michigan and Florida working and attending various churches. Then Kirby convinced her to come to California. After several years of following the work that Kirby was involved in, they settled in Modesto.

When the church first began in their home, Lida was working in the Campbell Soup plant and was the Secretary for the Church.

After the rapid growth of the church and the toll that arthritis had taken on her hands, she started working full time for the Church.

Revs' Lida and Kirby traveled and preached all over the United States spreading the work of the Church. She has dedicated her life to continuing the work that she and Kirby helped to start. She was elected by the Church board as President in 1999.